Look-O-Look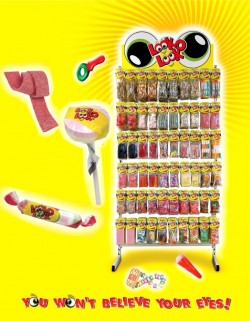 Look-O-Look creates a surprising world of candy for every child in its own smart way.
Exciting, top quality sweets

High visibility transparent hanging bags

Constant up-to-date assortment through regular product innovations

Proven Licensed products which appeal greatly to children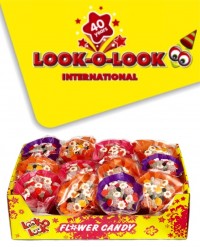 Novelty Sweets and Confectionery
Castle Snackfood Distribution Limited now distributes the Look-O-Look range of novelty sweets and confectionery. These are top quality sweets that are mainly focused for children between four to 12 years old. Look-O-Look offers an attractive sweets assortment to both children and parents.
The Look-O-Look Brand
Look-O-Look strives for a position in the top of European children's confectionery brands and for sound profitability.
In co-operation with customers and suppliers, Look-O-Look develops and packs unique, top quality articles. Flexibility, fun and service merchandising are the basis of these activities.
Look-O-Look works together in an open, inspiring and independent organization and are enthusiastic, customer friendly and environment minded.
Please
contact
us if you would like to stock the Look-O-Look brand of quality novelty sweets and confectionary and with all your sweets and confectionary requirements.
---

Prepacked Snacks | Prepacked Nuts | Prepacked Dried Fruit | Prepacked Coated Nuts | Novelty Confectionary | Novelty Sweets | Prepacked Grains | Snack Bars | Bulk Foods | Healthy Snack Foods | Toffee Bars | Liquorice Snacks | Baking Fruits | Fudge Bars | Snack Foods | Milk Chocolate Snacks | Yoghurt Snack Bars
Distributed throughout Ireland by

Castle Snackfood Distribution Ltd.


Antrim, Armagh, Carlow, Cavan, Clare, Cork, Derry, Donegal, Down, Dublin, Fermanagh, Galway, Kerry, Kildare, Kilkenny, Laois, Leitrim, Limerick, Longford, Louth, Mayo, Meath, Monaghan, Offaly, Roscommon, Sligo, Tipperary, Tyrone, Waterford, Westmeath, Wexford & Wicklow.